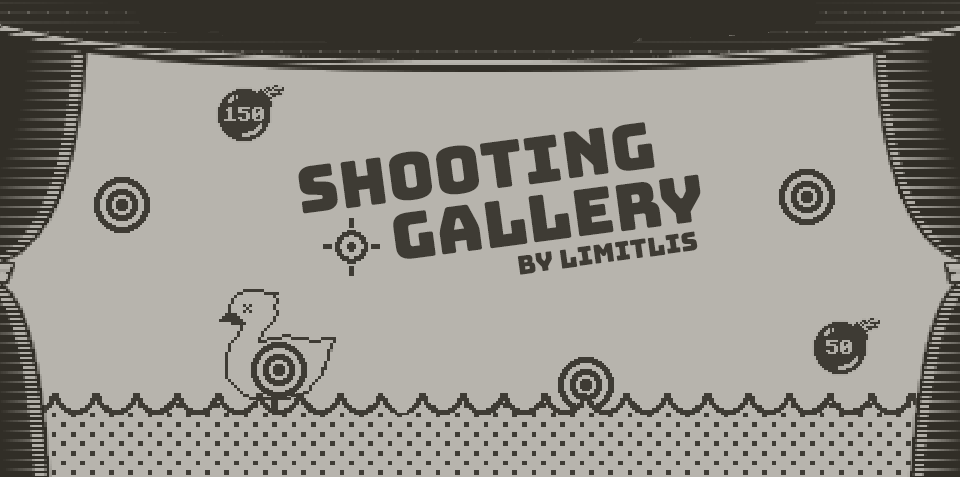 SHOOTING GALLERY for Playdate
A downloadable game for Playdate
Step right up!
Aim for the middle and test your mettle against a volley of tricky targets, diabolical ducks, and bewitched bombs as they float tauntingly across your playdate. Use PowerUps to your advantage to reach the top of the high score leaderboard*.
Set a high score and then hand the playdate to a friend to see if they can beat it.
Features:
🎯 Quick, 30 second games.
🎯 Easy to learn controls
🎯 Point Bombs
🎯 Time Bonus pickups
🎯 Phantom Ammo (to aid in reaching higher hit streaks)
🎯 Full interactive tutorial included.
🎯 Motion Controls (New in beta as of 1.1.8)
🎯 No clowns!
Featuring music by Yubatake.
PowerUps:
| | | |
| --- | --- | --- |
| PowerUp | Name | Description |
| | Time Bonus | Adds seconds to the clock to extend your current game. |
| | Phantom Ammo | Shoot to stop at a random number and that amount of phantom ammo will be added without a reloading or resetting your hit streak. Reloading will be prevented until all phantom rounds are spent. |
| | Point Bombs | Shoot one and a bomb card will appear in your hit streak. Clear the card before the reload counter reaches 0 and receive the points. Otherwise those points will be removed from your current score. |
Free Demo Available:
The demo build is available to download for free and consists of the tutorial from the full game. After a brief walkthrough of the basics of gameplay you will get to preview the full experience. This should give you a good idea if this game is for you before purchasing.
Not present in the demo build:
The full game and future updates
High Score Leaderboard
More Music Options
End-of-round Gameplay Stats
* Leaderboards are on device only and not global since SDK games aren't allowed internet access at this time.
What's In the works?
I'm looking into adding motion controls via the Playdate's accelerometer.
I'd also like to add some level variety to the game, each with their own leaderboards.

Some ideas:

whack-a-mole style level
a western themed saloon level
Purchase
In order to download this game for Playdate you must purchase it at or above the minimum price of $5 USD. You will get access to the following files:
Playdate ShootingGallery 1.1.7.pdx.zip
8 MB
Playdate ShootingGallery 1.1.8 - motion controls beta.pdx.zip
8 MB
Download demo